Business Support
You're the expert at your business.
Let Friendly Computers be the experts of your IT.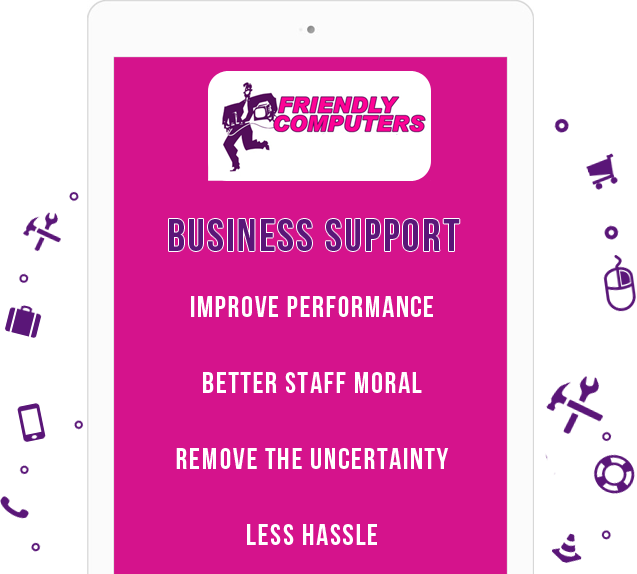 Friendly Computer's mission is to provide corporate quality IT support for computers and networks for your small to medium sized business.
For us, Business Customers come first. Claim back your time
We help you avoid company downtime and decrease your computers systems budget so you can focus your time and resources on the real bottom line.

" />
Remove the worries
Our certified IT experts can help you with your office workstations, field laptops, networks, printers, copiers and your servers. Keeping systems performing and reducing interruptions. Help you to grow
We'll help you get the most out of your IT. Improving productivity, reducing staff overhead or changing the way you interact with your customers. IT can be made to work for you.
For us, Business Customers come first.
As a Business Customer you will always receive our highest priority when it comes to your IT problems. We are a business, we know how dependent businesses today are on their computers and networks working. If your having a computer problem, chances are you can't make money. That's important to you and its
important to us.
Getting the right IT Support for your business makes all the difference
Installation and maintenance of servers

Installation and maintenance of workstations, laptops, printers and copiers

Setup and secure wired, wireless, VPN networks and other network solutions

Data backup, recovery and restoration

Software/Technology setup and upgrades

Information sharing across offices, departments, web and electronic devices